AVEUGLE

Concept E-Commerce platform for an innovative wine tasting experience
Platform:
Desktop

Duration:
2 week sprint

Role(s):
Researcher, Strategist, Information Architect, Interaction Designer and Visual Designer

Methods:
User Research, Business Analysis, Sketching/Wireframes, Usability Testing and Prototyping

Tools:
Sketch, Pen and Paper, Invision
Prototype
Full Case Study

October 2017
OVERVIEW








︎ Discovering new wines is difficult for most wine consumers out there. I wanted to find an innovative solution for users to develop their own tasting palate without feeling self conscious, and be able to discover new wines.




︎ Pain Points & Challenge
The purchase of wine is overwhelming and complicated


It's difficult to access the knowledge without knowing a connoisseur, or someone in the wine industry


Blind tasting can be intimidating
︎ Solution
Making the online purchase of wine more enjoyable


Making learning about wine fun and less intimating


Introducing consumers to new wines


Provide an easy and pedagogical way to blind taste for all types of wine drinkers
THE PROCESS


︎ Discover
︎ Ideate & Design
︎ Test & Iterate
︎ Build & Deliver
Methods:
Market Research, User Interviews, Business Analysis, Personas, Empathy Maps, User Journey
︎
Most challenging insights
From market research

Wine consumption in the US has been growing exponentially
The market is open and adapting to the increase of online sales for wine enthusiasts
From interviews

• More experienced individuals have a tendency to purchase their wine online with a specific goal in mind, versus less experienced wine consumers prefer to be part of a wine club, or a membership program
• Discovering new wines is difficult for most of the people I interviewed.
• 12 out of 14 people said that if given the opportunity to blind taste they would do it, but they are too intimidated to do it in public
From the business analysis

• In terms of digital strategy, wine E-commerce platforms are often a bit behind in comparison to similar markets, like coffee
I compared 2 of the more modern versions of wine online retail with comparable markets (Coffee, chocolate and cheese)
One of the most interesting insights is that Winc buys it's wine bulk, and does their own branding, while Naked Wine partners with smaller producers and distributes them directly
︎ Full Research Report
︎ Storyboard
The Pairer

"I always purchase wine while thinking about the next meal I am going to enjoy it with"
- Alice

Goals
Wants to find the perfect wine for her diner
Frustrations

Overwhelmed with the amount of wine to choose from in the store and online
The Connoisseur

"I never buy a wine that's under a 92 pt grade on Robert Parker" - Bob


Goals
Wants to impress at dinners

Frustrations

Lack of experience

The Sommelier

"Part of my job is developing my nose and palate" - Tyler





Goals
Wants to find the next new trendy wine

Frustrations
Can't practice blind tasting on his own
Difficulty at finding people with the same level of experience to share new discoveries
Image: First sketch
Methods & Tools
Sketching, Whiteboard, Prioritization Matrix and Site Map, User Flows
︎ What influenced the design decisions

Highlighting the types of wine that the personas would be most interested in trying


Keeping the E-commerce platform as simple and standard as possible so people can find their product easily


Keeping breadcrumbs through the website so that users don't get lost


Implementing Instagram on the front page, as we discovered during research that that specific brand of social media is very important to our users

︎ Challenges

The translation of volume and portions on the product page, how to make the process as easy and clear as possible for the user


Highlighting the option to purchase bottles with our wine merchant partners on the product page
︎ TEST & ITERATE



Method: Paper Prototype, Wireframing, User Testing

Tools: Sketch, Invision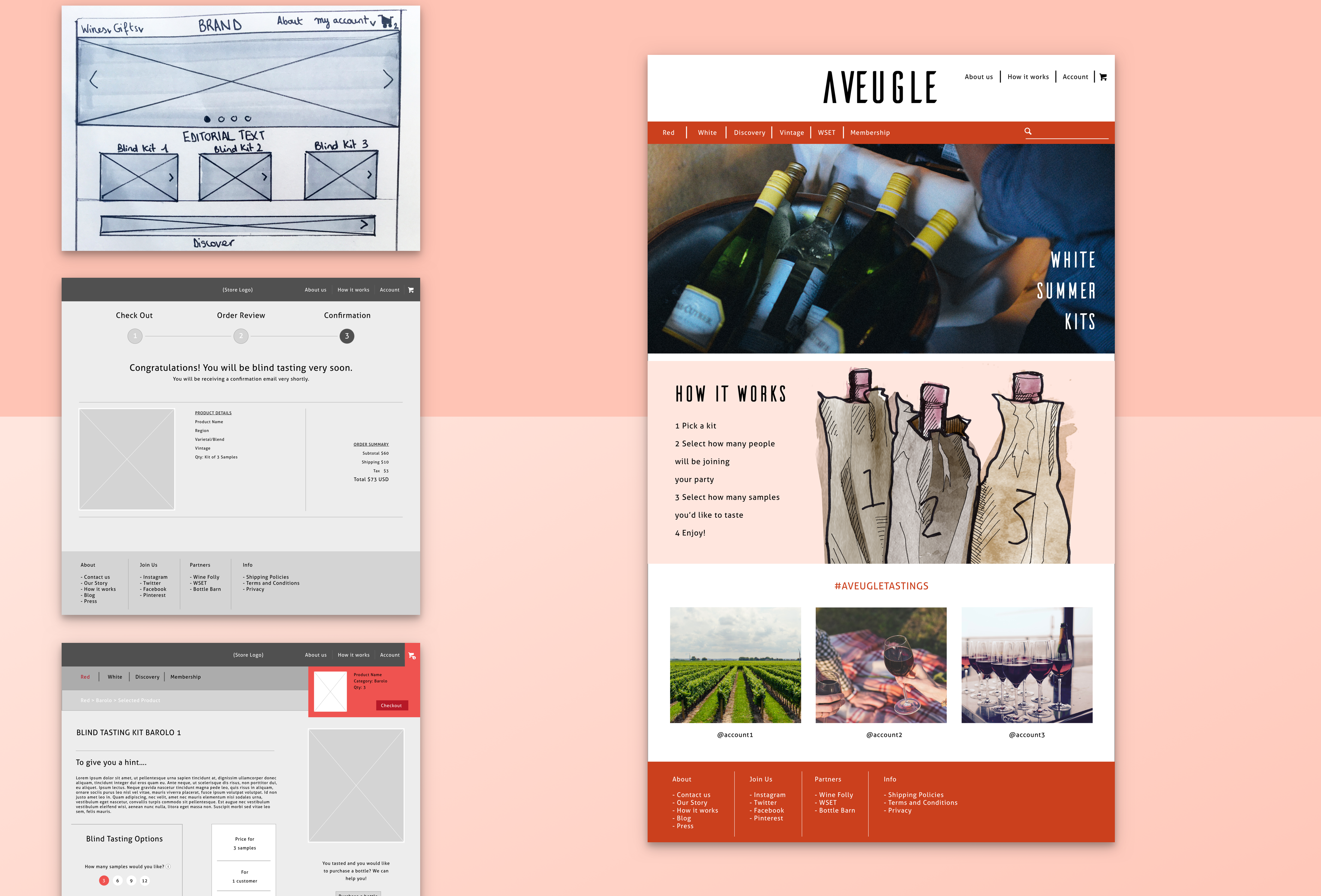 ︎ Next Steps
For the user's experience
Finding a way to reach out to the beginner persona


Adapting the website to mobile & tablet

For the business
Develop a cost effective and simple packaging


Develop a membership program


Have an events program with our partner merchants to raise brand awareness


Develop more shipping options

︎ What I've learned
You can't design for everyone. I tried building this website for multiple personas when I should really have focused on 1 or 2


Check out flow needs to be rigorously clear so that the user can trust the system and go through with the purchase


The product page is highly important. Designing a clear and enjoyable page is key for the user's experience